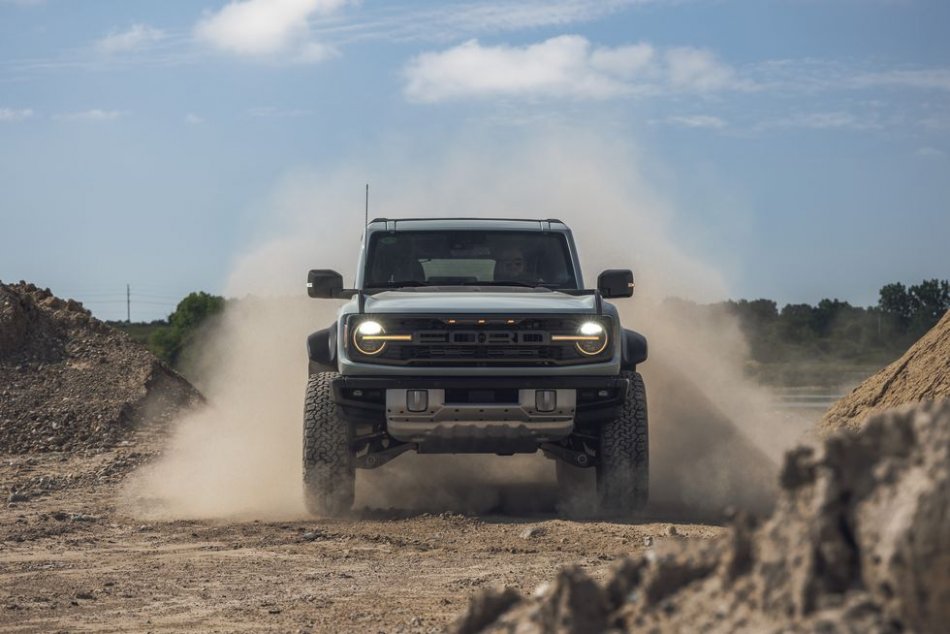 This is an article on Cars.com basically describing their pros and cons experience of the BRap.
With the launch of the reinvented Bronco for 2021, Ford resurrected more than just retro styling cues from the original 1966 model. Like the first Bronco, the new incarnation presents serious off-road buyers with an alternative to the iconic Jeep Wrangler, and arguably one that is a tad more civilized and high tech. Now, for 2022, Ford has upped the ante with the Bronco Raptor.
Like its F-150 Raptor sibling, the Bronco Raptor is meant to be an off-road performance machine, with extras such as more horsepower, an upgraded suspension and a wider track. The result is a much more capable Bronco, and one better equipped to do battle with Jeep's Wrangler Rubicon 392.
Changes from the standard Bronco are so extensive that the two look very different, and the Raptor performs notably better in both on- and off-road driving. The combination of added power, a reworked suspension and electronic wizardry for enhanced performance transform the Raptor into a much more capable, yet agreeable, machine for day-to-day driving.
We recently spent some time with the amped-up Bronco and came away impressed. However, there's always room for improvement. For a closer look at the 2022 Ford Bronco Raptor, hit the link above to read Brian Normile's complete review. For a quick look, read on — here are five things we like about the 2022 Ford Bronco Raptor, and four we don't:
Things We Like​
1. More Oats​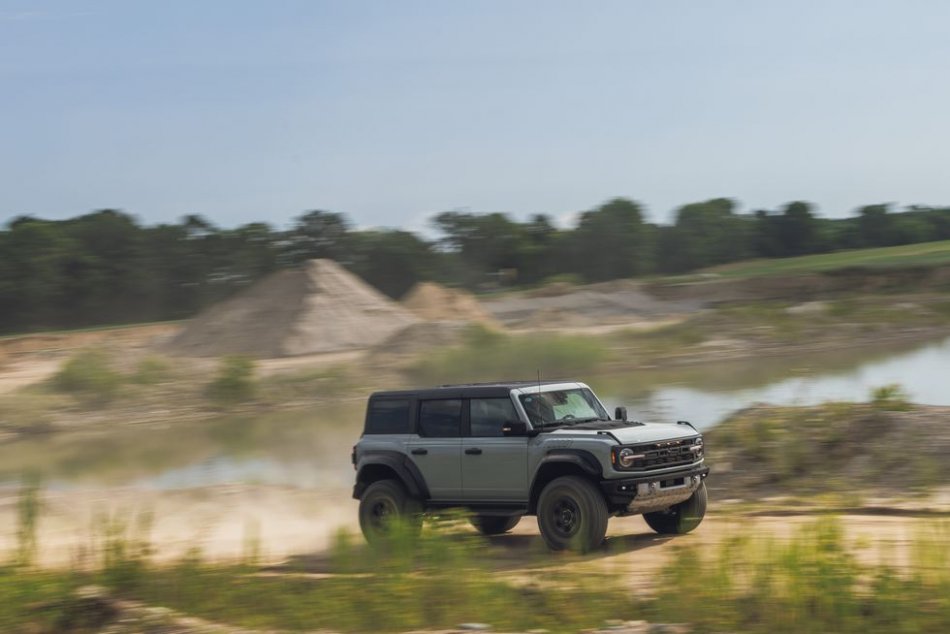 The Bronco Raptor packs a lot more punch than lesser trims thanks to a 418-horsepower, twin-turbocharged 3.0-liter V-6. Paired with a 10-speed automatic transmission, the Raptor is quick if not head-snappingly fast, with abundant torque for rock crawling, towing and more. Towing capacity jumps to 4,500 pounds compared to a regular Bronco — a bump of some 1,000 pounds.
2. Added Capability Underneath​
Some of the biggest upgrades to the Raptor require some crawling around underneath. There's a significantly upgraded suspension that includes beefier components from the F-150 Raptor, along with more robust steering components, huge 37-inch BFGoodrich All-Terrain T/A KO2 tires, and more than 8 inches of increased track front and rear.
3. Polite On-Road Manners​
The suspension upgrades make the Raptor a more capable off-roader, to be sure, but also result in better on-road manners. Street handling and steering feel are improved over the standard Bronco, and bigger brakes do a commendable job of bringing this 5,700-plus-pound beast to a halt.
4. It Looks the Part​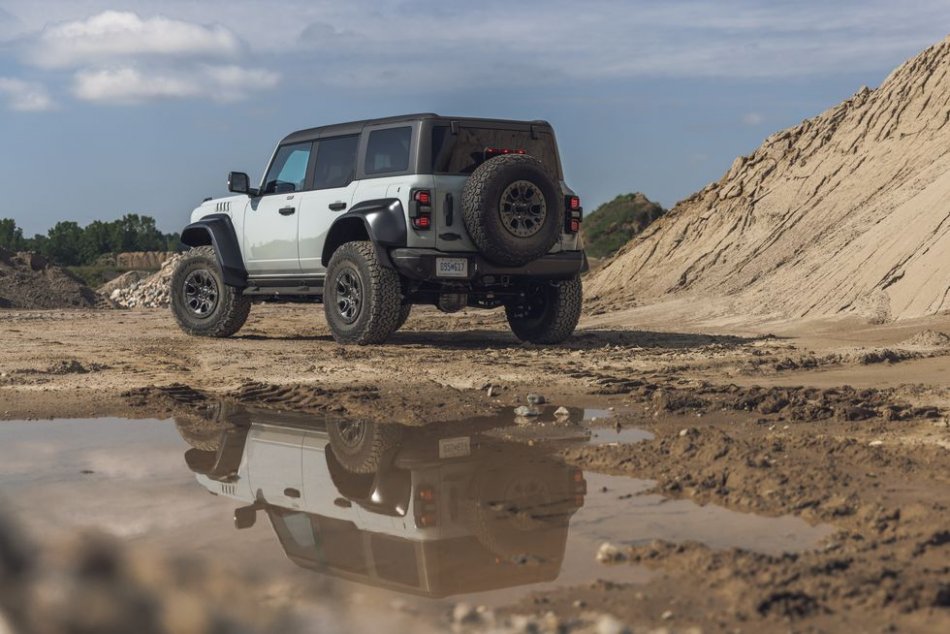 Styling is subjective, but there's no question the Bronco Raptor looks the part. Huge fender flares help accommodate its wider track and oversize tires, while fender vents, a functional hood-mounted heat extractor and a more aggressive grille add to the look. If all of that isn't enough, available bold graphics should do the trick.
​
5. Off-Highway Star​
With its upgraded powertrain and suspension, increased ground clearance and aggressive approach and departure angles, the Bronco Raptor excels off-road. It feels surprisingly nimble during low-speed maneuvers, and the added suspension travel, combined with an adaptive suspension, help make it feel remarkably controlled while blasting through the desert at speed
Things We Don't Like​
1. Sound Judgment​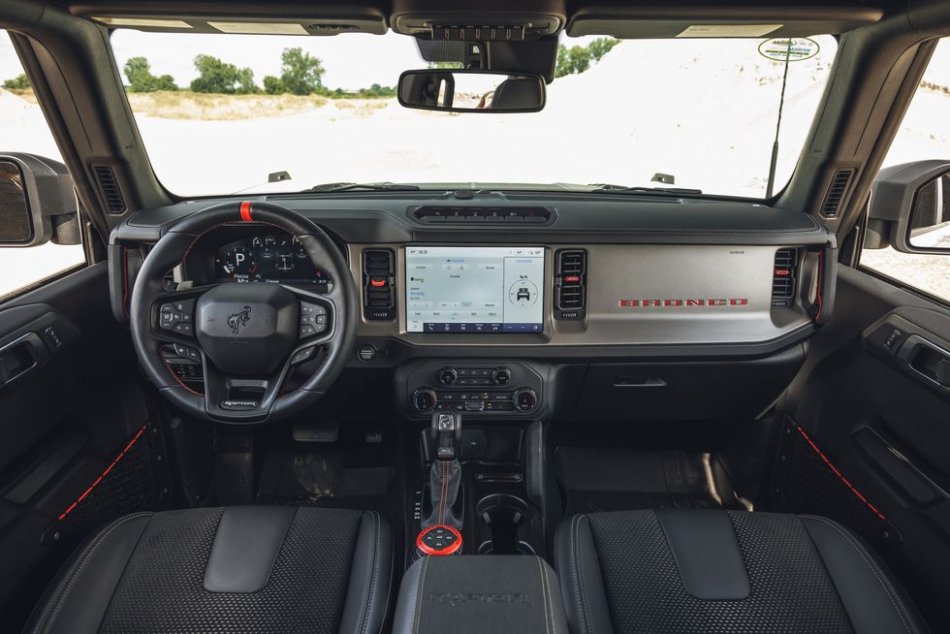 As potent as the new powertrain is, the aural experience is somewhat of a disappointment. The twin-turbo V-6 is powerful enough and Sport mode adds aggressive blips of throttle during downshifts, but the soundtrack just isn't as satisfying as a throaty V-8. There's also a fair bit of wind and road noise, some of which we'll let slide because it can be chalked up to a feature we like — the removable doors and roof.
2. View From the Helm​
Thick windshield pillars restrict the view to the sides when cornering, especially in tight maneuvers on- or off-road. The huge, tailgate-mounted full-size spare tire and third brakelight create an obstruction big enough to block much of the view behind the Raptor, hiding entire vehicles on the highway.
3. Thirst for Adventure​
Few off-roaders are likely to base their vehicle choices on EPA fuel economy estimates, but in an era of record gas prices, it's worth noting the Bronco Raptor is going to cost you big at the pump. An EPA-estimated 15/16/15 mpg city/highway/combined is made more painful by Ford's recommendation for premium fuel. However, buyers can take heart in knowing those figures beat the Wrangler Rubicon 392, which also prefers premium.
4. Wide Load​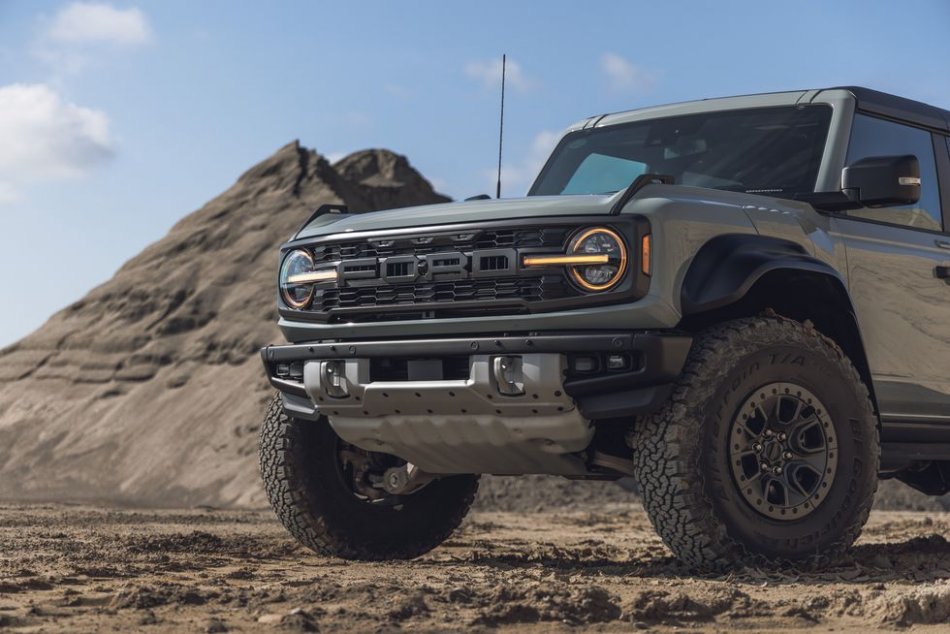 The Bronco Raptor is some 7 inches wider than a Wrangler, which can make a big difference not only while rock crawling, but maneuvering in and out of the local grocery store parking lot. It's worth noting that those added marker lights are not just there to look cool: As is the case with the F-150 Raptor, they're a federal requirement due to the Bronco Raptor's extra width.