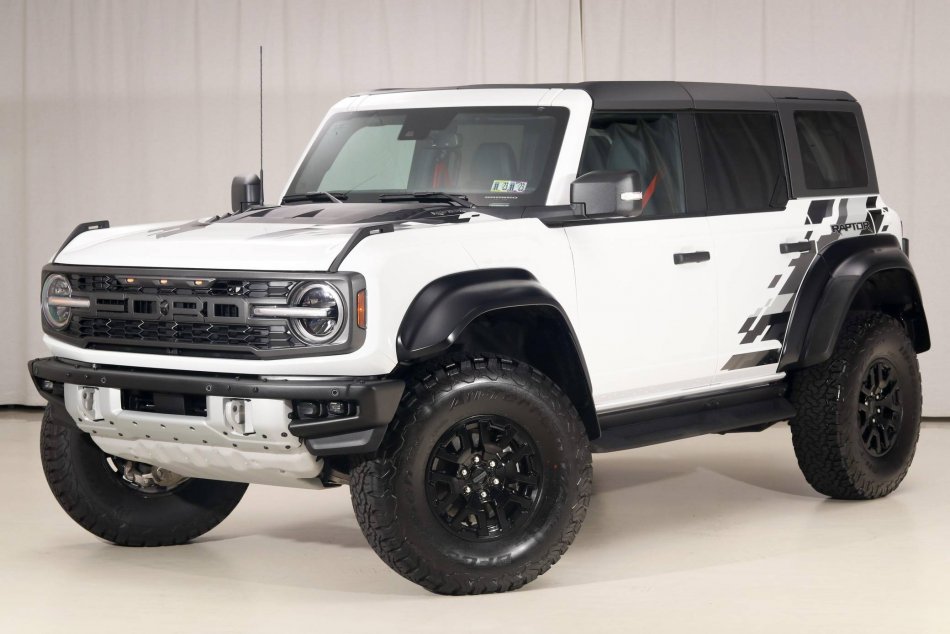 2022 Ford Bronco Raptor Fast Facts​
Powertrain
3.0-liter twin-turbocharged V6 (418 horsepower @ 5,750 RPM, 440 lb-ft @ 3,250 RPM)
Transmission/Drive Wheels
10-speed automatic transmission, four-wheel drive
Fuel Economy, U.S.
15 city / 16 highway / 15 combined (EPA Rating, MPG)
Fuel Economy, Canada
15.7 city / 14.8 highway / 15.3 combined. (NRCan Rating, L/100km)
Base Price
$68,500 (U.S.) / $108,565 (Canada)
As Tested
$75,770 (U.S.) / $112,305 (Canada)
Prices include $1,595 destination charge in the United States and $2,195 for freight, PDI, and A/C tax in Canada and, because of cross-border equipment differences, can't be directly compared.
When a 2022 Ford Bronco Raptor showed up at my door last summer, I immediately cleared a weekend day to go off-roading in Indiana. It felt like my test would be incomplete if I didn't do that.
I'm glad I did. Because this machine is made for the backwoods.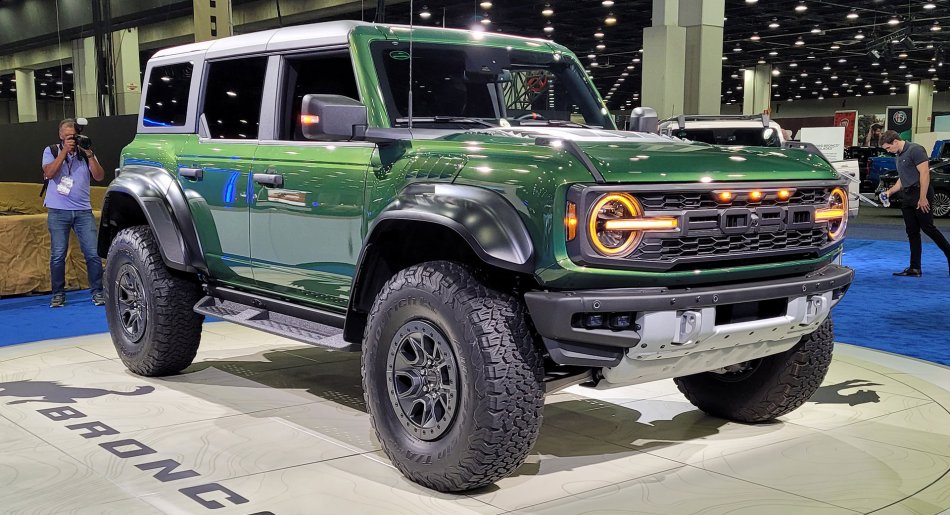 The Raptor may or may not be a great dune jumper, thanks to its 3.0-liter twin-turbocharged V6 that makes 418 horsepower and 440 lb-ft of torque. I can't speak to that, the off-road park where I usually do my testing doesn't really allow for that (although one can do some nice donuts on the sand hills). What I can tell you is that this thing is a great mudder and rock crawler – though its width will cause some cosmetic headaches.
What I mean by that is the Bronco's paint and plastic panels got a bit scratched from tree branches. Some of that is my fault – I probably should've been a bit choosier about which trails I traversed. Then again, sometimes a trail looks nice and wide until you're halfway down and can't back out. I also ran a
Wrangler Rubicon
through some of the same trails about a year earlier with no issues, because the Jeep is narrower. If you plan on off-roading your Raptor, I'd avoid the goofy-looking graphics, invest in a paint protection option, and remove the roof panels (weather permitting). For that last one, make sure they're stowed correctly, or else they'll scratch each other as the trucklet bounces through the woods.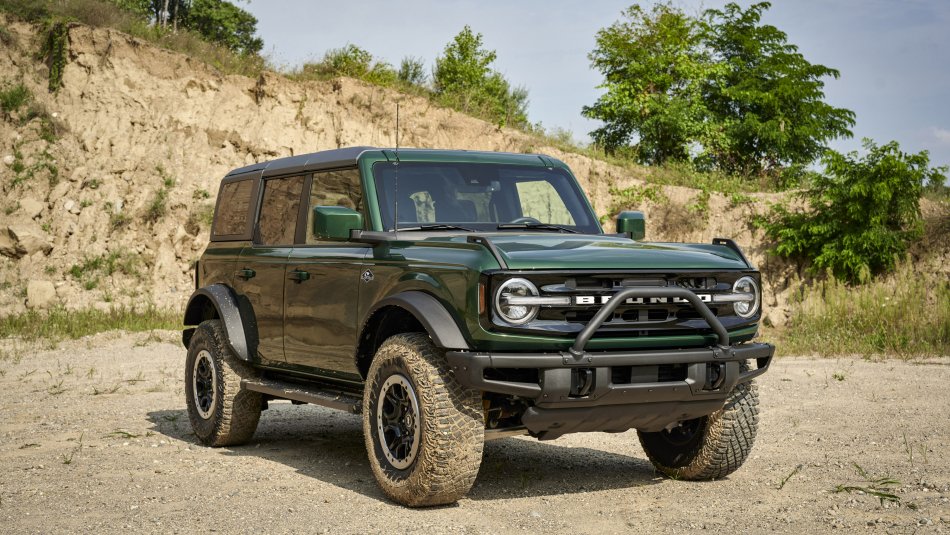 Minor, easily fixed scratches are not that big a deal, though. A lot worse can happen. You can get stuck. You can bend sheet metal. You can damage mechanical parts. Thankfully, it's fairly hard to manage any of that with the Raptor.
This rig is so good it can save you from yourself. I wandered down one trail that seemed easy-peasy and didn't appear to be marked as too difficult for the Raptor and suddenly found myself facing a rock pile. Backing up wasn't going to be easy and turning around would involve an Austin-Powers-like million-point turn. I hemmed and hawed and finally said "screw it" and put the GOAT (Goes Over Any Terrain) mode into Rock Crawl. I figured the worst that could happen was I'd not be able to go up and over and I could back it down.
So I said a little prayer and goosed the gas. First try, I got about halfway up and slid a bit back down. OK, I said to myself, "Self, we need more throttle". I backed up a bit more, dropped the 10-speed automatic back into drive, sunk my right foot to the floor, and with relatively little drama I was up and over, feeling like Superman.
That's what the Raptor can do: Make a relatively novice off-roader who has a bit of a
track record of getting stuck
feel like freakin' Ivan "Ironman" Stewart.
It has other superpowers, too. Such as turning the heads of almost everyone you pass. And being able to pass slowpokes on the freeway with relative ease, thanks to all that power. Indeed, as great as the Raptor is off-road, its on-road acceleration is a party trick that doesn't get tiresome.
Another positive – despite its off-road prowess, the on-road ride and handling sacrifices are minimal. Noticeable, sure, and I'd not want to do a 120-mile roundtrip freeway commute on the daily. But for the mostly freeway transit to the off-road park, the Raptor was pleasant enough. The ride was compliant enough that my back didn't complain, despite the journey being over two hours each way. Wandering was limited.
Wind noise is a bit noticeable, though, thanks in part to the removable roof panels, but it's not obnoxious. Nor is tire noise, despite the Raptor rolling on 37-inch tires mounted on 17-inch wheels.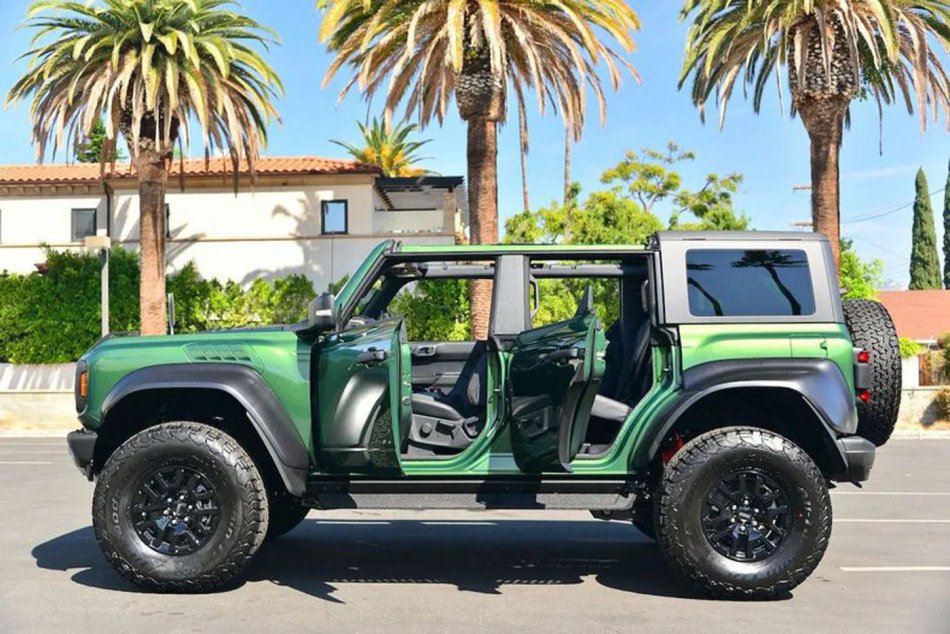 Those 37-inch all-terrain tires are just one part of the Raptor package when it comes to off-road goodies. There's also a two-speed transfer case, Dana 44 independent front suspension with an electronic locker (4.70 ratio), Dana 50 heavy-duty rear axle with a solid differential and electronic locker (4.70 ratio), FOX semi-active dampers front and rear, skid plates, front and rear tow hooks, one-pedal drive, trail turn assist, trail control, cameras that can help you see what's ahead and behind, stability-bar disconnect, and the various GOAT modes (slippery, normal, tow/haul, rock crawl, sport, Baja, and off-road).
I actually didn't much use trail-turn assist or one-pedal driving because I didn't really encounter a situation that required them, but I imagine they'd be helpful if necessary.
Like with the "lesser" Bronco trims, I found the interior pleasant enough and the seats were comfortable enough for long drives.
Greatness doesn't come cheap. The Raptor I tested started at $68,500. That included the off-road necessities, fog lamps, automatic high beams, LED headlights, pre-wired auxiliary switches, paddle shifters, USB A and C ports, a 12-inch LCD infotainment touchscreen, 360-degree camera, Wi-Fi, satellite radio, and pre-collision assist. Some of this is part of the High Package, which appears to be automatically selected if you build a Raptor on Ford's configurator.
Options on my test car included graphics ($1,075), keyless entry ($110), black Beadlock wheels ($1,995), and leather-trimmed suede seats ($2,495). With destination ($1,595) the total was $75,770. And this tester didn't have the Lux package, which for $2,300 adds evasive steering assist, a heated steering wheel, B&O audio, a wireless charging pad, factory navigation, and a few other goodies.
I can't, in good conscience, recommend the Bronco Raptor as an around-town rig. Not because it's bad in urban environments – it's surprisingly good, in terms of ride and handling, for such an off-road-oriented trucklet – but because there's no reason to pay for all the off-road goods if you don't plan on doing some boulder-bashing.
Even if your weekends do involve off-roading on occasion, the basic Bronco can do a lot. Even if you don't spring for the Badlands package, which is what Ford offers as the best all-around off-road package for most buyers (Wildtrak is for desert runners and Everglades for those who do more than a bit of water fording, while Heritage is meant to evoke the Broncos of old in terms of style), the Bronco is
very capable
. So you don't
need
the Raptor to go off-roading.
But if you really want to master the terrain, or if you're intent on taking a factory rig to tackle the most difficult situations, the Raptor is there for you. If you have the money.
If you do, you won't be let down.
What's New for 2022
The 2022 Ford Bronco Raptor is a new top-dog off-road trim for the Bronco.
Who Should Buy It
The wealthy weekend warrior.
Article Courtesy of Tim Healey/TTAC (The Truth About Cars)