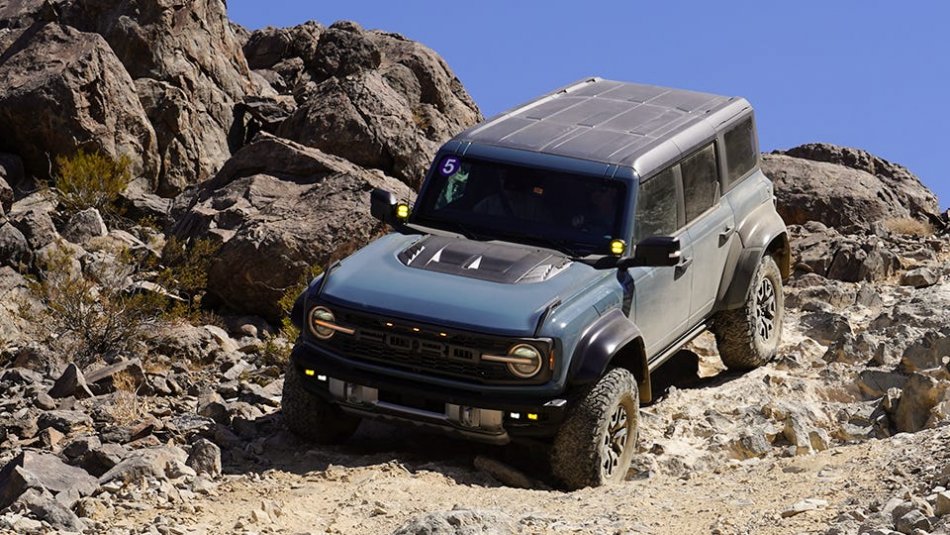 Deep ruts and moguls? Wildly shaped volcanic rocks? No problem. Micheal Teo Van Runkle
​
Strapped in tight with a helmet and HANS device, I watch Baja 1000 and Mint 400 vet Shelby Hall blast off at full throttle and bury my windshield in a thick dust cloud. I'm up next. I cover the brake pedal with my left foot and ease into the gas, revs climbing to 3,000 RPM before I let loose and pummel the poor polo-shirted Ford rep to my left with another shower's worth of desert grit.
There's no time to wave "sorry," though, before I stomp the brakes for an ABS test, four-wheel drift through a slalom cone circuit, then tackle whoops and jumps at more than 60 miles per hour. This is the Ford Bronco Raptor, and it waits for nothing.
After wheeling the Bronco Raptor from posh Palm Springs to the forests above Idyllwild the previous afternoon, the Ford-hosted media event moved to the rugged Johnson Valley, the Bronco's home territory. Here we got to explore the new Raptor's high-speed desert running and rock-crawling abilities on segments of the treacherous King of the Hammers off-road course.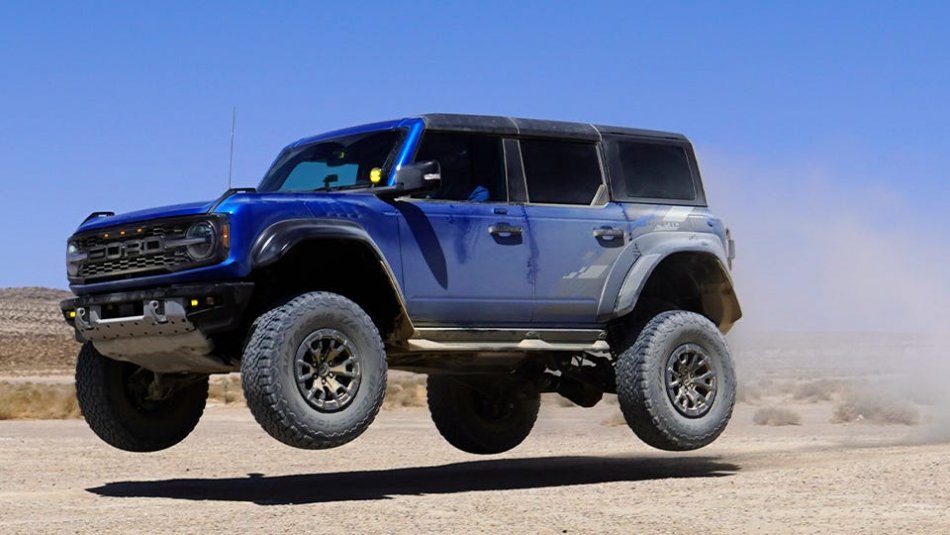 Bronco fans have been waiting to see just how extreme the production Bronco Raptor would be, and now we know. It'll arrive this summer with 418-horsepower and seriously extreme dune-bashing talent.
Michael Teo Van Runkle
​
A New Kind of Raptor​
Building on the success of the F-150 Raptor—and perhaps in response to an expanding slate of hardcore off-roaders like the Jeep Wrangler Rubicon 392, Ram TRX and new Chevrolet Silverado ZR2—the recently revived Bronco SUV now receives a similar Ford Performance treatment. In some ways, the Bronco Raptor ratchets the madness a notch higher than the F-150.
Measuring almost 10 inches wider in total than a base Bronco four-door, the Raptor gets a big bump to 418 horsepower and 440 pound-feet of torque from a turbocharged 3.0-liter EcoBoost V6. Beefed-up suspension components and 37×12.5-inch tires, the largest ever fitted on a production SUV from the factory, hint at the Ultra4 racers that served as the Bronco Raptor's design inspiration.
The price rises just as much as the power, starting at $68,500 and rising to more than $80,000 with options. Tacking on widely expected dealer markups when sales begin later this summer means buyers might face six-figure stickers.
A reinforced shell and a slew of uprated heavy-duty componentry, much shared with the F-150 Raptor, makes the Bronco Raptor almost unstoppable off-road. But it's also surprisingly civilized around town.
Michael Teo Van Runkle
​
Part of that stunning total comes because Bronco now borrows plenty of parts from the F-150, including wheel hubs and carriers, suspension components and brakes (importantly, many aftermarket mods will now fit both). To handle so much more power and capability, Ford reinforced the drivetrain, chassis and bodywork. Thicker axle tubing, tie rods, new control arms and a more durable clutch fit into the recipe, as does roof bracing that contributes to a 50% increase in torsional rigidity.
All those mechanical and cosmetic enhancements add plenty of weight though, to the tune of 5,731 pounds. That's just 9 pounds shy of an F-150 Raptor. With 28.9 inches less wheelbase, however, the Bronco Raptor distributes the weight better than the pickup, creating less tail-happy slippage and more predictability at the edge of traction.
The full list of off-roading goodies runs from front and rear locking differentials to 67.88 crawler gearing and an electronically disconnecting front sway bar, all of which telegraph Ford's commitment to beating Jeep's Wrangler and Gladiator at their own game.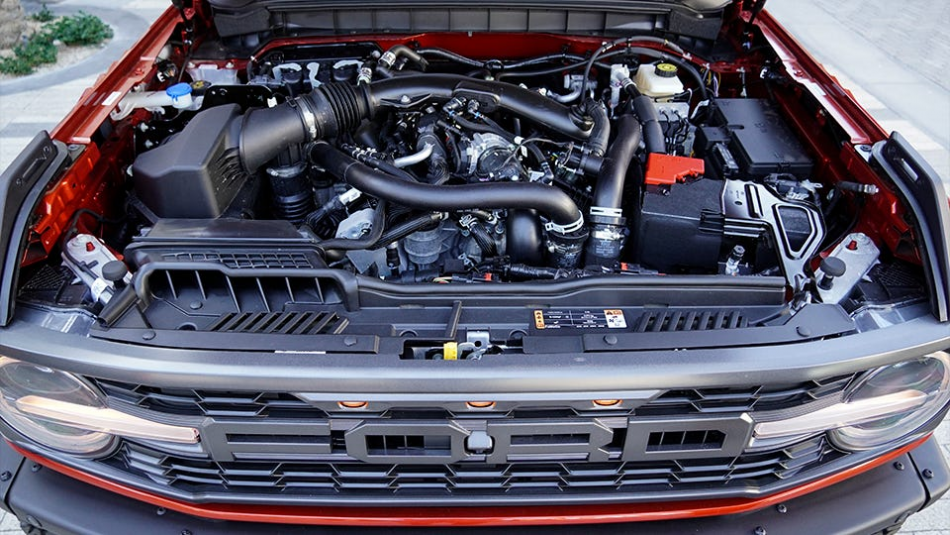 The Bronco Raptor's heart is a turbocharged 418-horsepower, 3.0-liter EcoBoost V6 similar to the one in the Ford Explorer ST.
Michael Teo Van Runkle
​
Goes Over Any Terrain, For Real​
With Sport mode selected on the G.O.A.T. ("Goes Over All Terrain") dial, the Bronco Raptor handles city and highway driving surprisingly well, with little in the way of road hum despite the knobby BFGoodrich All-Terrains and minimal wind noise from the removable hard-top.
After hammering through the tight S-curves and straightaways up the hill from Palm Desert on Highway 74, I purposefully stopped to duck under the rear axle and just make sure Ford hadn't sneakily installed a rear sway bar for our on-road driving experience.
At a coffee stop, I asked the Raptor's engineers why they decided against that feature—the response seemed like a combination of incredible tunability from the Fox Live Valve 3.1 internal-bypass shocks, plus the added weight, cost and complexity of an additional sway bar that would also need to disconnect. (Most four-door Broncos leave the factory equipped with rear sway bar brackets but no actual sway bar, in a nod to the increasingly popular rooftop tent trend.)
But how can something so big, that drives so well on pavement, actually handle severe torture-testing on the potentially dangerous King of the Hammers (KoH) course? Yes, although Ford wisely split attendees into groups of three Raptors, with professionals driving a lead vehicle and two journalists following behind. We aired our tires down to 25 PSI up front and 22 at the rear, then headed straight up the ridge of Fissure Mountain.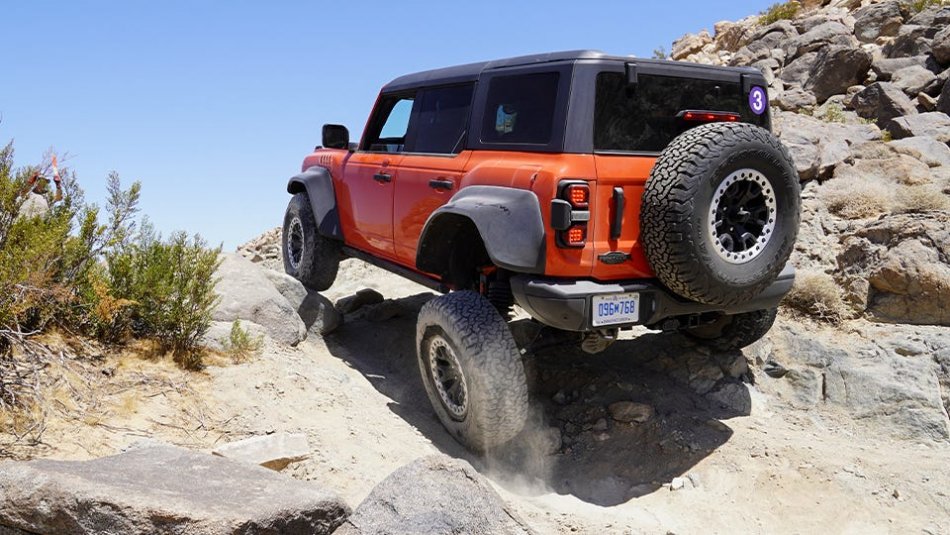 With enormous amounts of suspension travel, 13 inches in front and 14 inches in back, the Bronco Raptor doesn't tire you out while off-roading and has serious axle articulation game. Michael Teo Van Runkle
​
Rock Crawling at King of the Hammers​
A few easier portions of trail warmed everybody up to fiddling with their locking diffs, low-range gears and sway bars, much of the settings easily selected with the GOAT dial. Over walkie-talkies, Ford reps coached tire placement and delicate throttle modulation—but mostly, the Broncos just cruised, taking what looked like a tough trail from the outset entirely in stride. Only later would we find out why.
After descending a steep, sandy drop littered with basketball-sized boulders, we pulled up to one of KoH's most challenging obstacles named, in classic KoH fashion, "Her Problem." Here, Ford revealed the improved approach and departure angles made possible by easily removing the Bronco's front and rear bumpers, which already allow for impressive 47.2 and 40.5 degrees, respectively.
Removing the stock side steps requires only one person and exposes legit rock sliders to complement the extensive underbody skid plates that run from the engine to the transfer case.
Slowly climbing through the tight gaps, steep shelves and deep rocky ruts of "Her Problem proved just how radically the new Raptor components improve the Bronco, which now, simply put, demolishes all competition. I kept marveling that Ford actually let us climb such a hardcore aspect—only to tackle an even more unbelievable obstacle mere moments later.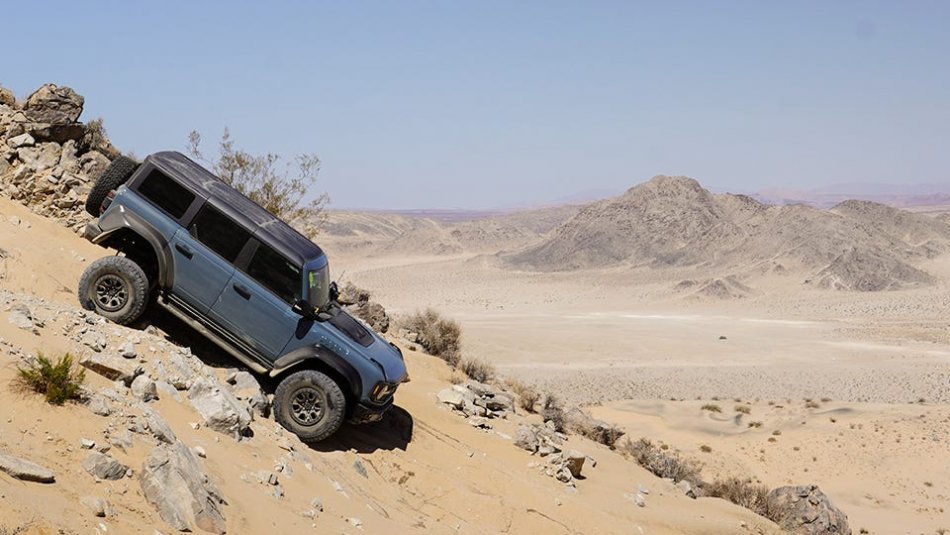 High above the desert floor, the King of the Hammers proved an equal match for the Bronco Raptor. Buyers can expect the SUVs to ship this summer.
Michael Teo Van Runkle
​
As Close to Ultra4 Capability as a Street Vehicle Gets​
Terrain this tough indicates just how confident Ford feels about the Bronco's abilities. Without exaggeration, "Her Problem" far eclipsed any off-roading I've ever done. I never even glanced at the Raptor's inclination or powertrain gauges because I spent the entire time keeping an eye on spotters and obstacles.
On road, the Bronco's electric power steering provides a welcome ability to adjust assist and help overcome the fat tires' herculean grip while remaining light enough to avoid fatigue while off-roading. On the other hand, the 10-speed automatic transmission has a few shortcomings.
On the steepest climbs, with Off-Road Mode selected on the GOAT dial to activate 4-Low, I discovered that the gearbox allows the engine to climb up quickly past 4,500 RPM until the turbocharger torque simply overwhelms traction and causes a momentary slip, at which point the transmission happily shifts up a gear and causes the truck to lurch at the worst possible moment.
Similarly, Baja Mode for higher-speed running nudges the 10-speed up to such high revs that I regularly hit redline. Here, the boost falls off and saps power, which means upshifting, which again causes a surge forward. I ended up flipping the gear selector into Manual mode and shifting with the paddles for much of the day.
All told, the various GOAT settings play with the Bronco's steering assist, exhaust note, shock damping, shift points and 4WD gearing well enough for beginners to quickly select a mode and hit the dirt.
With more time in the Bronco Raptor, I believe a custom combo using the individual buttons on the steering wheel might emerge—for her part, Hall expressed that she wanted to be able to stiffen up the shocks even further than Ford's maximum setting.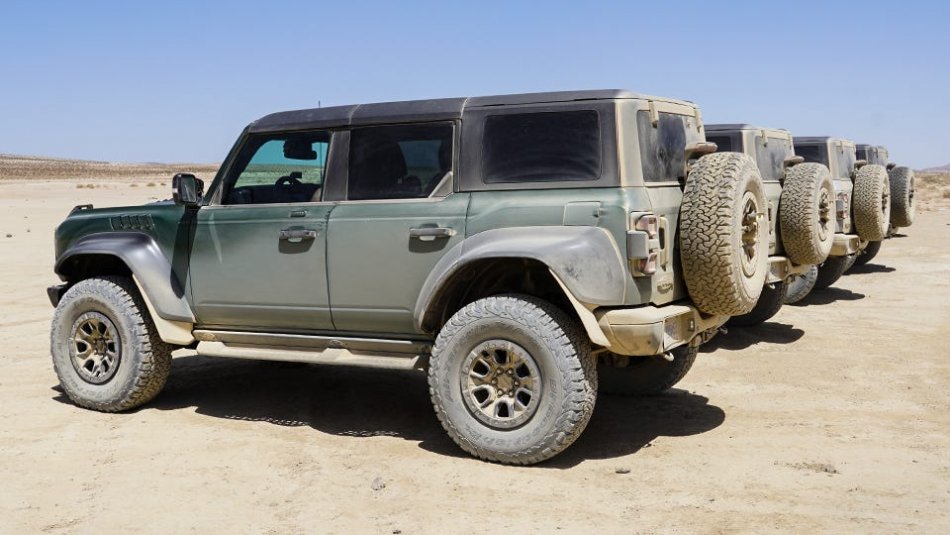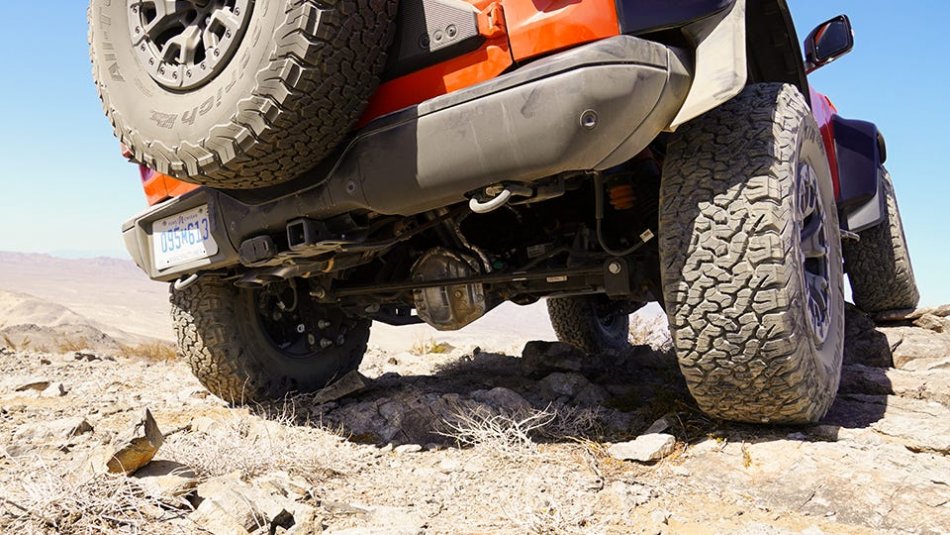 ​
Purposefully Built to Take On All Comers​
Flying through whoops and ruts at top speed, I discovered probably the Bronco's best attribute compared to the F-150: When the nose starts to pop up and down, a second or two of hard throttle actually settles the tail into a squat to allow for smoother acceleration. The short wheelbase and huge suspension travel, 13 inches in front and 14 out back, explains the sensation.
Little Bronco Raptor details like a 50-mph sway bar reconnect speed might seem trivial but for context, Jeep's sway bars annoyingly reconnect and disconnect at only 18 mph—plus, the Bronco's driver ergonomics easily beat the Wrangler or Gladiator. On the negative side, the rear seats and cargo space feel comically small and the materials and design fall short of the F-150 Raptor's fancy confines.
My time chasing a herd of wild Broncos through the desert left me with no doubt about Ford's intent with the new Raptor: creating the most aggressive off-roading all-rounder available from any manufacturer. That is until Ford rolled a brief tease of the forthcoming F-150 Raptor R as the day concluded, but that's a story for another day.
​